tebsclock - E17 steampunk binary clock

tebsclock is a small gadget for the Enlightenment desktop shell. It does nothing but display the time in a binary and steampunk fashion. It can be resized in any way you want thanks to Edje. Creating a theme for this gadget should be fairly easy.
disclaimer
This code is no longer maintained, there is a 0.003% change it still compiles.
screenshots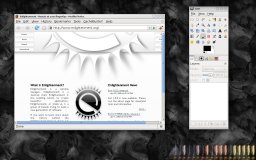 download
Source code: tebsclock-0.1.0.tar.gz (210K, MD5: f2902ab7d24bb9b989932424567413b3)
installation
You need Enlightenment DR17 fully installed, preferably the latest CVS. Then the procedure is simple:
./configure
make
sudo make install
If your OS is not covered, feel free to let me know or send me patches.
Last updated: 2008-11-03 02:04:19Z